$49.99
NZD
Category: Military History | Reading Level: near fine
Captain Charles Hazlitt Upham is the only combat soldier ever to win the Victoria Cross twice. His acts of bravery in World War II meant he probably deserved six more.   The mystery of how a reserved, modest, slightly built farm valuer from New Zealand, could be so ferocious and fearless in battle has i ntrigued and fascinated Tom Scott ever since he read about Charles Upham as a schoolboy. 'Searching for Charlie' is his epic quest to unravel the "real" Charles Upham. ...Show more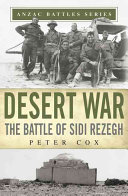 $34.99
NZD
Category: Military History | Series: Anzac Battles Series
Sir Geoffrey Cox described Sidi Rezegh, fought during Operation Crusader in Libya over November and December 1941, as 'the forgotten battle of the Desert War'. The objective of Crusader was to retake Cyrenaica, the eastern region of Libya, and ultimately drive the Italians and Germans out of North Afric a. The campaign also involved British and South African troops, and did achieve the badly needed relief of Tobruk. Despite the New Zealand Division's major role, and the importance of this campaign in achieving British victory in North Africa, it has largely been neglected by historians, failing to receive as much attention as Crete, El Alamein or Cassino. Yet more New Zealand soldiers were killed or taken prisoner during Crusader than in any other campaign fought by 'the Div' during the war. Peter Cox, whose father fought at Sidi Rezegh, draws on his experience of twice visiting the battlefield to tell the story of this complex and costly campaign. He sets the scene for the fighting in Libya, describes the unforgiving and inhospitable desert landscape, follows the stages of the action itself and recounts the often moving and heroic stories of the New Zealanders who fought there. Many never returned home. This is both a very accessible account of a significant New Zealand contribution to World War II and a tribute to the thousands of men who took part in this punishing battle. ...Show more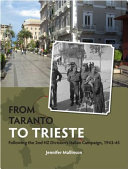 $49.50
NZD
Category: Military History
Taranto to Trieste is an account of the author's fascinating journey to retrace the actual path of the 2nd New Zealand Division in Italy from its arrival in October 1943 until the end of the European war. Although a personal journey with personal reflections, the real story is about the largely off-the- beaten track places which the troops passed through, what they saw and experienced along the way and, in some cases what they missed. To complement the Division's story, the historical context and military actions are explained with many maps as well as war-time photographs and colourful quotations from official military histories. As the author says, "There are many people of the post-war generation, and their children, with direct connections to the Italian campaign, who would like to know more about the small, mysterious places the Division passed through which appear in diaries, letters and on the back of photographs, but many of which do not appear on maps." The author's own photographs, descriptions of the places visited, the landscapes travelled and the roads followed will delight those wanting to follow in the footsteps of the 2nd Division in Italy. ...Show more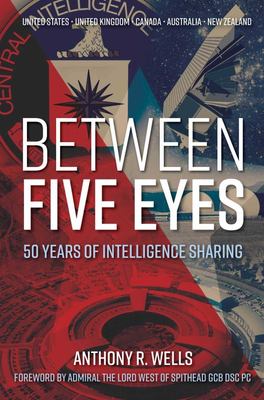 $35.00
NZD
Category: Military History
UK-US intelligence and the wider Five Eyes community of Canada, Australia and New Zealand is primarily about one main thing, relationships. In this remarkable book, Anthony Wells charts fifty years of change, turmoil, intense challenges, successes and failures, and never-ending abiding UK-US and Five Ey es relationships. He traces the development of institutions that he firmly believes have sustained and indeed may have saved the free world, Western democracies and their allies from those ill disposed to the value system and culture of our nations. More than a chronology of the UK-US intelligence community during this fifty-year period, it is also a personal insight into key relationships and how the abiding strength of the US and the UK and its Five Eyes allies relationships. The author has relied on his own extensive unclassified collection of papers, personal notes, diaries, as well as his family library for source material to create this book. ...Show more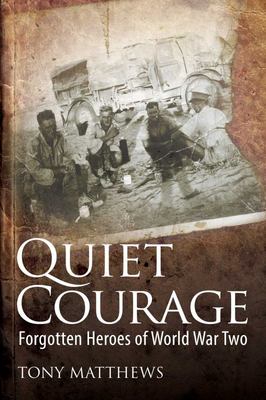 $35.00
NZD
Category: Military History
What could induce a young pilot to walk out onto the wing of his burning aircraft at 13,000 feet? Why would a plucky young woman descend into the bowels of a sinking ship knowing that she would almost certainly die there? Why did a family remain on their farm, tending crops while suffering four long yea rs of deadly artillery shelling? How did a former fishing trawler sink one of Hitler's deadliest U-boats, and who were the two Australian nurses who protected wounded patients with their own bodies while experiencing a savage machine-gun attack? Why did a young naval apprentice keep rowing when his hands had been so badly burned, they were literally glued to his oar? And who were the two selfless 'Dad's Army' soldiers who miraculously saved the lives of hundreds of their comrades even when it meant sacrificing their own? These and many other fascinating questions are answered in one of the most remarkable books of gallantry, fortitude and selfsacrifice you will ever read. Quiet Courage: Forgotten Heroes of World War Two is a book about thoughtful, intelligent actions and above all, an enviable capacity for bravery. ...Show more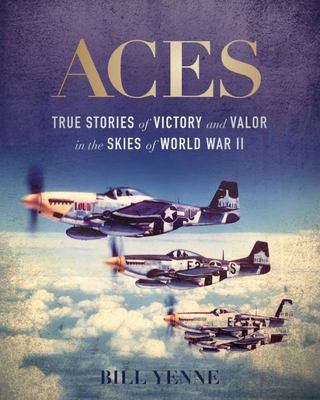 $39.99
NZD
Category: Military History
Aces is an illustrated history of the brave World War II fighter pilots who earned the title of ace, with archival and modern photos of their aircraft.
$35.00
NZD
Category: Military History
The true story of a detective, two bronze horses and the dictator who set the world on fire. When detective Arthur Brand is summoned to a meeting with one of the most dangerous men in the art world, he learns that a clue has emerged that could solve one of the Second World War's unexplained mysteries- w hat really happened to the Striding Horses, Hitler's favourite statue, which disappeared during the bombing of Berlin. As Brand goes undercover to find the horses, he discovers a terrifying world ruled by neo-Nazis and former KGB agents, where Third Reich memorabilia sells for millions of dollars. The stakes get ever higher as Brand carefully lays his trap to catch the criminal masterminds trying to sell the statue on the black market. But who are they? And will he manage to bring them to justice before they discover his real identity? With a plot worthy of John Le Carre, Hitler's Horses is a thrilling retelling of one of history's most extraordinary heists. ...Show more
$24.00
NZD
Category: Military History
'A superb account of the invasion that deserves immense praise. To convey the human drama of Normandy requires great knowledge and sensitivity. Holland has both in spades' The Times Renowned World War Two historian James Holland presents an entirely new perspective on one of the most important moments in recent history, unflinchingly examining the brutality and violence that characterised the campaign, and totally recalibrating our understanding of this momentous event. D-Day and the 76 days of bitter fighting in Normandy that followed have come to be seen as a defining episode in the Second World War. Its story has been endlessly retold, and yet it remains a narrative burdened by both myth and assumed knowledge. In this reexamined history, James Holland challenges what we think we know. Drawing on unseen archives and testimonies from around the world, introducing a cast of eye-witnesses from foot soldiers to bomber crews, sailors, civilians and resistance fighters. ...Show more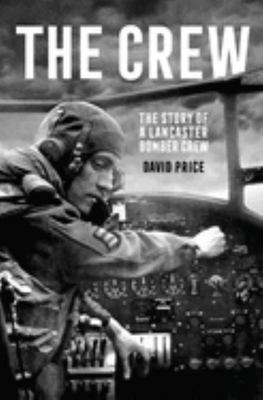 $55.00
NZD
Category: Military History
The Crewrecounts the intimate, personal testimonies to the author of Wing Commander Ken Cook who served as Bomb Aimer with the Comans crew. The Crewspecifically follows Flying Officer Jim Comans and his crewmen from their enlistment as volunteers, through training and into operational service. The Coman s crew flew forty-five hazardous bombing missions - mostly deep into Germany at night - through the winter of 1943 to the summer of 1944. At ninety-five Ken Cook is the crew's last survivor. Enlisting in RAF Bomber Command at nineteen his extraordinary story brings a moving insight into the bombing campaign. His experiences, particularly during the Battle of Berlin, highlight the extreme danger each bomber crew faced. With Bomber Command's casualty rate of over 44%, the book describes how the airmen overcame immense physical and mental challenges to survive. There are now very few surviving RAF Bomber Command airmen from the Second World War. The Crewwill be one of the final eyewitness testimonies to a momentous time in our history. ...Show more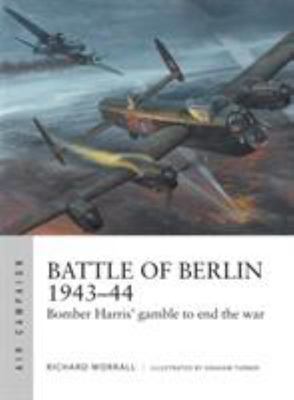 $34.99
NZD
Category: Military History | Series: Air Campaign Ser.
This illustrated study explores, in detail, the controversial Battle of Berlin -- RAF Bomber Command's costly, brutal attempt to prove that strategic bombing alone could bring an end to World War II.Throughout late-1943 into early-1944, an epic struggle raged over the skies of Germany between RAF Bomber Command and the Luftwaffe. This campaign had been undertaken by the Commander-in-Chief Bomber Command, Air Chief Marshal Sir Arthur Harris, and was baptized "The Battle of Berlin." The Berlin campaign was a hard, desperate slog. Struggling against dreadful and bitter winter weather, Bomber Command "went" to Berlin a total of sixteen times, suffering increasingly severe losses throughout the winter of 1943/44 in the face of a revitalized German air-defense. The campaign remains controversial and the jury, even today, is ultimately undecided as to what it realistically achieved. Illustrated throughout with full-color artwork depicting the enormous scale of the campaign, this is the story of the RAF's much debated attempt to win the war through bombing alone. ...Show more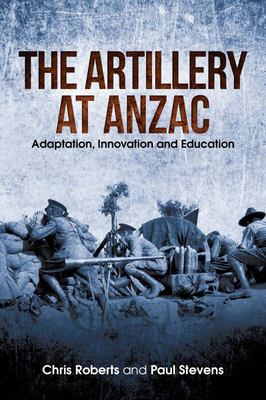 $39.99
NZD
Category: Military History
This meticulously researched book provides the first comprehensive study of the employment of artillery and naval gunfire support at Anzac. Faced with huge difficulties on inferior ground the Australian, New Zealand, Indian, and British gunners quickly adapted to a hostile environment, employing innovat ive techniques to counter superior numbers of Ottoman artillery and provide fire support to their infantry and light horse colleagues. How well they performed is a central theme of The Artillery at Anzac. Using a host of primary sources including official manuals, war diaries, operation orders, letters, and private papers the authors trace the story of this neglected feature of the Gallipoli campaign. Commencing with an evaluation of the nascent pre-war Australian and New Zealand artillery, they take the reader through the testing introduction to the realities of modern warfare, the trials and difficulties the gunners experienced throughout the campaign, to the phased evacuation in December, without alerting the Ottomans to the reduced number of guns. Along the way, they challenge a long held controversy concerning the light horse charge at the Nek, and evaluate the effectiveness of the fire support provided to the infantry attacks, including that at Lone Pine, the attacks on the Sari Bair Range, and at Hill 60. In doing so, the authors illuminate long-buried information to provide new and penetrating insights into the campaign at Anzac. The Artillery at Anzac reveals a largely unknown aspect of the campaign, deepening our understanding of it, and providing a new perspective that is of value not only to Gunners past and present, but to historians, and the wider public. Although occurring over a century ago the experience at Anzac offers lessons to today's Gunners. ...Show more
$24.99
NZD
$55.00
(54% off)
Category: Military History | Reading Level: Very Good
'Devils on Horses is a very important book for New Zealanders, and for those who read military history. We now have an account of the New Zealand Mounted Rifles Brigade in Sinai and Palestine that at last does justice to their story. This was perhaps the finest body of New Zealanders ever to serve overs eas, and now we can see why.' (From the Foreword by Dr Christopher Pugsley). Reunited with their horses in Egypt after the shattering experience of Gallipoli (a story recounted in Terry Kinloch's earlier book, Echoes of Gallipoli), the Anzac mounted riflemen and light horsemen were initially charged with the defence of the Suez Canal, then with the clearance of the Sinai peninsula, and finally with the destruction of the Turkish armies in Palestine and Syria. At last they could pursue the style of warfare for which they had been trained: on horseback. The First World War battlefields in the Middle East have long been overshadowed by those of Gallipoli and the Western Front. Yet the story of the mounted riflemen in Sinai and Palestine is a truly fascinating one. Using the soldiers' original letters and diaries wherever possible, Kinloch vividly describes every battle and skirmish in the long campaign against the Turks: the crucial Battle of Romani, the defeats at Bir el Abd, Gaza and Amman, and the successes at Beersheba, Ayun Kara and elsewhere. He explains the reality of tactical operations in the harsh desert environment, the ever-present necessity of securing water for the precious horses and the remorseless tenacity of the enemy. The horses play a major part in the story, but of the thousands of faithful animals involved, only one would ever return home after the war. Devils on Horses is a gripping read that offers new information about a theatre of war that has been overlooked for decades. Based on original research, it is sure to be the standard reference work on New Zealand's Middle East campaign for years to come. ...Show more