Life On The Edge: The Coming Of Age Of Quantum Biology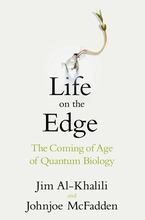 Stock information
: $37

.99

(NZD)

: 9780593069325
: Transworld Publishers Limited
: Bantam Press
:
: 0.477
: November 2014
: 234mm X 153mm
: United Kingdom
: 37.99
: January 2015
:
:
: books
:
:
: Jim Al-Khalili
:
: Paperback
:
:
: en
: 571.4
:
:
: 256
:
: illustrations
:
:
:
9780593069325
Description
Description: Life is the most extraordinary phenomenon in the known universe; but how does it work? Even in this age of cloning and synthetic biology, the remarkable truth remains: nobody has ever made anything living entirely out of dead material. Life remains the only way to make life. Are we missing a vital ingredient in its creation? Like Richard Dawkins' The Selfish Gene, which provided a new perspective on how evolution works, Life on the Edge alters our understanding of life's dynamics. Bringing together first-hand experience of science at the cutting edge with unparalleled gifts of exposition and explanation, Jim Al-Khalili and Johnjoe Macfadden reveal the hitherto missing ingredient to be quantum mechanics and the strange phenomena that lie at the heart of this most mysterious of sciences. Drawing on recent ground-breaking experiments around the world, they show how photosynthesis relies on subatomic particles existing in many places at once, while inside enzymes, those workhorses of life that make every molecule within our cells, particles vanish from one point in space and instantly materialize in another. Each chapter in Life on the Edge opens with an engaging example that illustrates one of life's puzzles - How do migrating birds know where to go? How do we really smell the scent of a rose? How do our genes manage to copy themselves with such precision? and then reveals how quantum mechanics delivers its answer. Guiding the reader through the maze of rapidly unfolding discovery, Al-Khalili and McFadden communicate vividly the excitement of this explosive new field of quantum biology, with its potentially revolutionary applications, and also offer insights into the biggest puzzle of all: what is life? As they brilliantly demonstrate here, life lives on the quantum edge.
Review: "'Life on the Edge' gives the clearest account I've ever read of the possible ways in which the very small events of the quantum world can affect the world of middle-sized living creatures like us. With great vividness and clarity it shows how our world is tinged, even saturated, with the weirdness of the quantum." Philip Pullman "Hugely ambitious ... the skill of the writing provides the uplift to keep us aloft as we fly through the strange and spectacular terra incognita of genuinely new science." -- Tom Whipple The Times "Coherence is just one of the complex phenomena that Jim Al-Khalili and Johnjoe McFadden set out to teach the reader. They succeed by using delightfully revealing analogies and similes, some borrowed from their prior work, that make slippery concepts sit still for study." The Economist "This illuminating account of an important new field is a wonderfully educative read." A C Grayling "Physicist Jim Al-Khalili and molecular biologist Johnjoe McFadden explore this extraordinary realm with cogency and wit." Nature Magazine
Promotion info
The startling discovery that the weirdness of quantum mechanics provides the vital spark that ignites life
Awards
Winton Royal Society Science Prize short list 2015.
Author description
Jim Al-Khalili (Author) Professor Jim Al-Khalili, OBE is an academic, author and broadcaster. He is a leading theoretical physicist based at the University of Surrey, where he teaches and carries out research in quantum mechanics. He has written a number of popular science books, including Pathfinders: The Golden Age of Arabic Science. He has presented several television and radio documentaries, including the BAFTA-nominated Chemistry: A Volatile History and The Secret Life of Chaos.Johnjoe McFadden (Author) Professor Johnjoe McFadden is Professor of Molecular Genetics at the University of Surrey and is the editor of leading text books on both molecular biology and systems biology of tuberculosis. For over a decade, he has specialised in examining tuberculosis and meningitis, inventing the first successful molecular test for the latter. He is the author of Quantum Evolution and co-editor of Human Nature: Fact and Fiction and writes for the Guardian on topics including GM crops, psychedelic drugs and quantum mechanics.